Hi there! How are you doing?
We are uncharacteristically exhausted here. In between sanding, painting, staining and poly-ing the "new" dining table and six chairs we haven't managed to squeeze in many smaller projects. Honestly if you follow us on facebook or twitter you know this dining room project has been kicking our butts! But we're nearing the end with just a few coats of poly to apply to the chairs (the table is thankfully done).
I did manage to fit in a little bit of a project last week, you know when I just couldn't stand to put on gloves and stain anything else! Or maybe it was while I waited for something to dry. Anywho, can you spot it on our gallery wall?
If you see it, 5 points to you. Points for what? Um, nothing. Just 5 points for you.
Anyway, I ordered this vintage hymnal sheet music from etsy's Saltbox Paperie…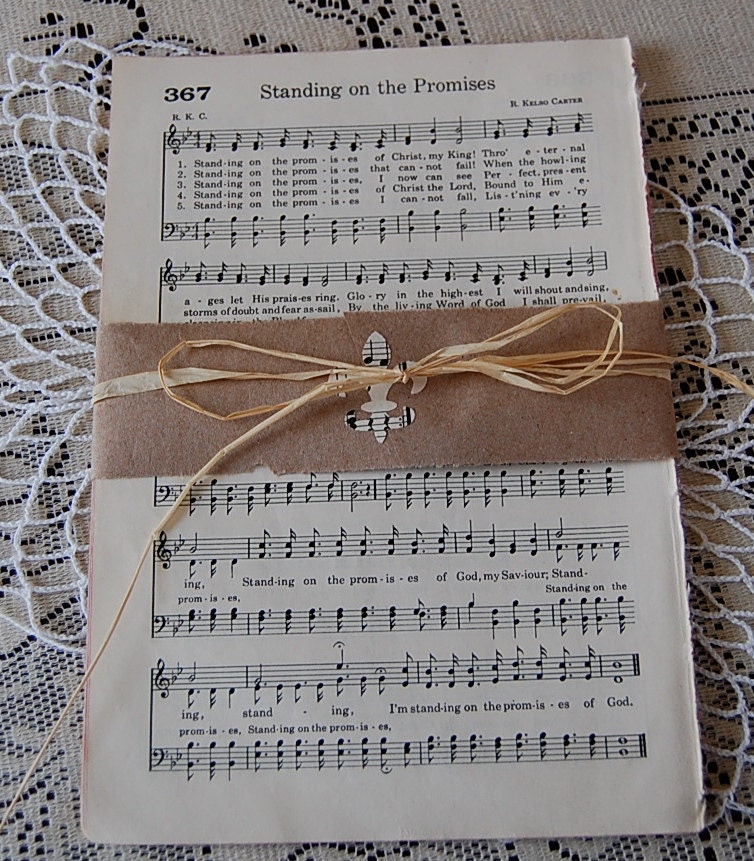 And I also got this lovely box o' goodies from Plaid/Martha Stewart (that I first used for our burlap banner project)…
Specifically for this project I used:
Martha Stewart by Plaid Flourish stencil

Martha Stewart by Plaid Monogram Serif Alphabet stencil

Martha Stewart by Plaid Roller and Tray

Martha Stewart by Plaid Multi-Surface Satin Acrylic Craft Paint in Beetle Black
Plus the sheet music mentioned above, a scrap of burlap, a black paint marker, an Ikea frame and some letters I copied from the computer screen.
Step 1.
Wet the roller brush (yes, I said wet it!) and sqeeze out excess water. Place a small amount of paint into plastic tray (included with the roller brush). Roll brush back and forth over paint to spread it over roller surface. Carefully place stencil over paper and roll over. LET Paper DRY.
Step 2.
Place your monogram stencil in the center of flourish. Roll on paint thinly.
Step 3.
Either freehand or using the pencil letter transfer method, write your "established" date (I used the year we were married). Fill in with paint marker or really small paint brush and paint.
To frame with burlap simply trace the frame backing onto your burlap and cut.
Roll some tape onto the back of the sheet music and position onto your burlap.
Place carefully in frame and close it up.
Pretty easy, no?
Martha Stewart's new collection can be found at Michael's stores in Canada and the U.S. They are a little pricier than non-name brand stencils and paints (get a coupon here). BUT - and this is a big but – the paints are usable on multiple surfaces – including fabric, which is amazeballs! And the tools wash up super easy with soap and water. I'm pretty impressed and can't wait to DIY me some more projects (like one that uses the really cool Spray Paint kit or maybe some glitter paint!).
Now back to the dining room. We're gonna love it when it's done, but goodness – the work!
This is not a paid ad. Plaid/Martha Stewart Crafts sent us some samples of their product to review. The opinions in this post are truly our own.